Tiny jars of M&M's, bags of chocolate, a water bottle filled with Skittles and a coffee mug with an assortment of other candy are scattered throughout the office so that you're seemingly never more than an arms length away from a sugar fix.
Dean of Students Dr. Jeffrey Waple's office has it all, from the massive amounts of candy to memories gone by to music ranging from "Metallica to Bach and everywhere in between," calling his iTunes playing on shuffle one of the most unique things about his office.
One of Waple's favorite memories associated with his musical choices was a student who was shocked at Waple's preferences.
"I was listening to Limp Bizkit and he couldn't believe it and he said 'You're supposed to listen to old music,' and I said, 'Well I listen to old music too but I have a rock 'n roll too,'" Waple recalled. "I said, 'Test me. Anything you want to listen to.' He said, 'Iron Maiden.' He's like, 'No way.' I mean it helps break the ice sometimes. They look around in here and don't see a cold, dark place. It's full of light and that kind of makes them at ease when they're in here."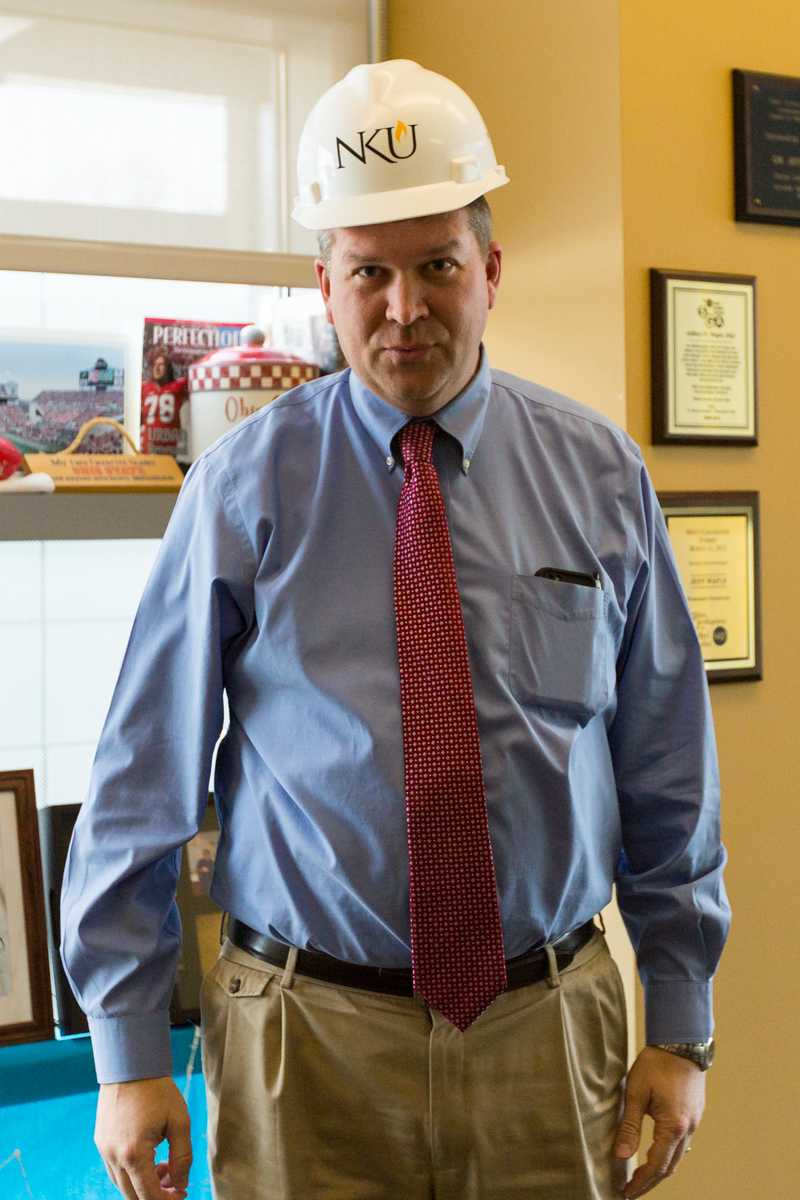 Waple finds it important to make sure his office is as personalized as possible.
"My belief is that you kind of personalize your office and it kind of helps when students are in here, regardless of their situation, it kind of helps break the ice," Waple said. "It shows that you're human."
Waple's office is tucked into the corner of the third floor of the Student Union meaning that two of his walls are nothing but windows overlooking the central plaza of campus.
Lining the windows are several years worth of memorabilia from banners from NKLI's Breaking Ground retreats and trophies from his years as a soccer coach.
The years' worth of trophies don't hold significance for him though like the plaque that sits in the far corner that was given to him by a former player.
"It's not necessarily a trophy… she started playing for me when she was 11 and I saw something in her that was unique, she had talent, and helped her develop that talent and they gave me that poem that talks about 100 years from now it's not going to matter what car you drove or how much money you made but what matters is the positive difference you made in the life of a child, that's kind of what that poem says… she just signed her letter of intent to play for Wright State, Division I soccer, full ride," Waple said. "That's an individual accomplishment and that means a lot to know that a young age you helped to influence her to love soccer and to get better and now she's a Division I player."
One shelf that stands out boldly in Waple's office is the one adorned with nothing but Ohio State University paraphernalia.
"I've made no bones about it since the time I interviewed here. But I'm a Buckeye. Born and raised a Buckeye," Waple said. "I'm a Norse, I support the institution I'm at, but wherever I'm at I have a shelf of Ohio State, and who can argue when you're National Champions? I mean how can you argue that!"
Waple says the only change he would make to his office is adding windows that open.
"I wish the windows would open… none of the windows in the union open; it would be nice to open a window," Waple said. "It'd be nice to have an escape hatch too and a slide… but a nice door with a slide so I could slide down to the plaza would be great. But seriously windows would be nice."