In a far corner on the fifth floor of Griffin Hall sits an office that many would also consider a toy chest.
John Gibson, a professor in the electronic media and broadcasting program, sits among several toys, family pictures and a director's chair in his eclectically designed office.
"Well, because I am a man-child, it started to look this way," Gibson joked.
Lining most of the shelf space in his office, Gibson has proudly put on display several figures you'd recognize from movies over the years. Most prominently standing out are stormtroopers from "Star Wars" or the all-terrain transport from "Empire Strikes Back," which was the first toy in his office.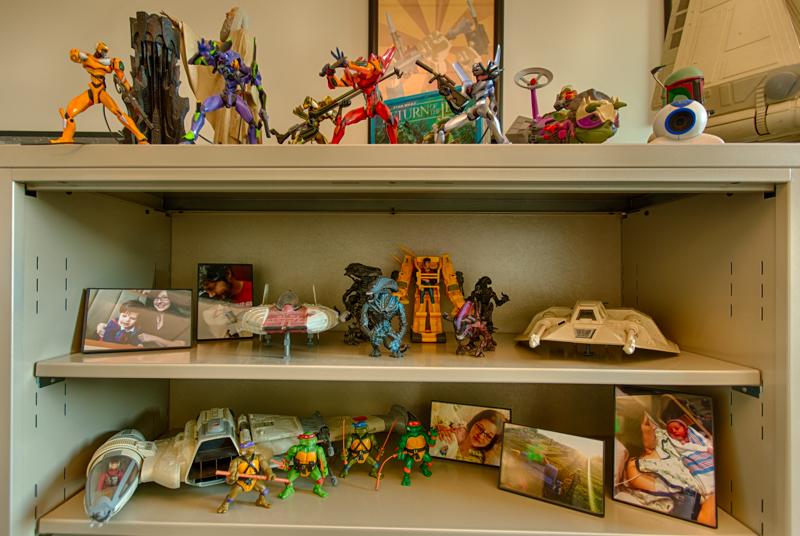 "This was actually just a toy creep thing, I started with just a couple of items and it kind of kept creeping across," Gibson said of how display found its origins. "I've always been the kind of person that I like having figures or movie memorabilia or things like that around me because I find myself, on the creative side, there's just something about having something like that nearby, or maybe it just reminds me of a scene in a movie."
Among the toys, pictures of Gibson's family stand scattered throughout and also compose a favorite part of his office.
Gibson recalled the first thing ever being brought into the office was a poster-size picture of him and his father that hangs in the corner.
"I was probably four, four and a half or so, and even though people have looked at it and gone, 'Is that your son,' because our heads look the exact same in it," Gibson said. "My dad passed away in April and we moved into Griffin Hall in June or July of that year… my dad never had a chance to see this office so for me at least that was going to be the first thing that gets brought in and hung up."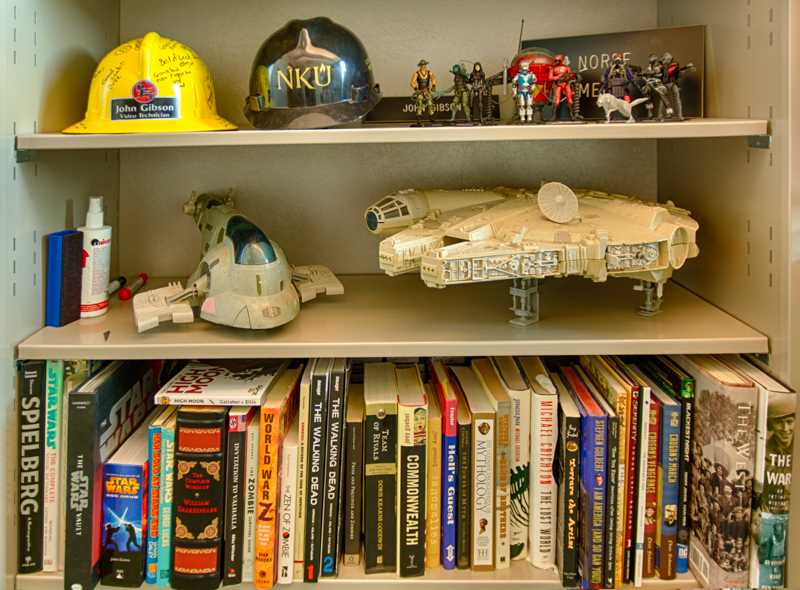 Sitting among all of the toys also include an old Nokia phone, or "The Brick" according to Gibson, as a reminder of how far technology has come, hard hats from previous jobs, and a director's chair that, despite Gibson's success as a director with his recent independent film, Revelation Trails, has seen very little action.
"I will say when we were in production I sat in it one time and that was for a group photo," Gibson said. "The thing they don't tell you is directors in independent films are running all over the place."
As far as any future additions, Gibson hopes to bring a balance to his office.
"I'm really bad when it comes to hanging things, like posters, I just kind of throw it up, and there's not really like a sense of where the eye should go to," Gibson said. "That's my biggest thing, I want to add a sense of purpose when it comes to the decorations on this side of the wall. I really need to get my wife in here."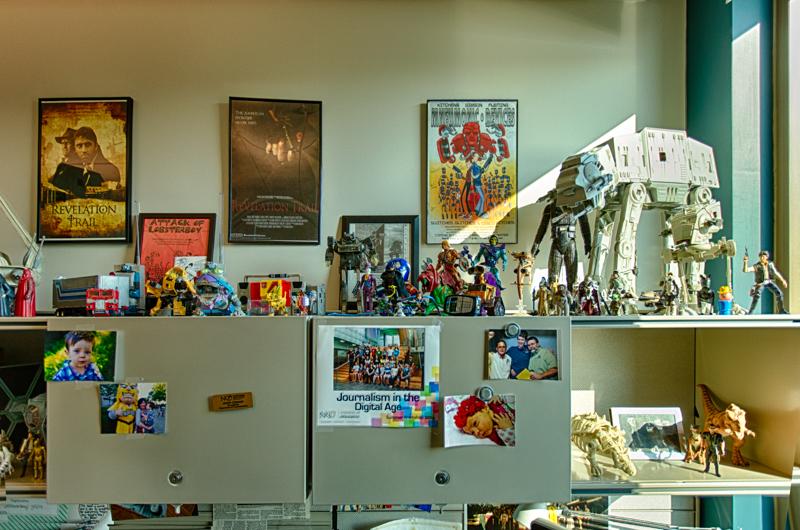 With a special place in his heart for all of the toys he's collected, Gibson said he sees no end to his collection.
"I'll probably be about to retire from this place and I'll still be bringing in a thing and be like, 'Here you go, this is going in my office,'" Gibson said.