NKU began decreasing the amount of available parking spaces last year starting with the loss of Lot S for Campus Recreation Center renovations. Now, the upcoming Connector Road project and the Health Innovations Center threaten to displace an additional 1,000 spots, more than 10 percent of NKU's parking. The Northerner took a look at how the university plans to make up for lost spots and how current lots are maintained.
Andy Simpson struggles to find a parking spot on campus. The senior BFA acting major drives 30 minutes from Price Hill to NKU five days a week.
All data provided by Larry Blake, assistant vice president of facilities management and Curtis Keller, director of parking services.
I. Space
Survival of the Fittest
At midday, it's like a game of hide-and-seek to find an open parking space on NKU's campus — or at least a game of following another student to their car.
"When I get to school... it's when the class before mine is just getting let out, and so I'm kind of hunting in the parking lot waiting for someone to back up so I can take their spot," Andy Simpson, senior BFA acting major, said.
However, that practice sometimes doesn't work out in Simpson's favor.
"There's always the people who are walking to their cars and then they look at you and they're like, 'Oh, I'm not actually going to my car, I'm just putting something in my car or getting something from my car,'" Simpson said. "That's like waking up on Christmas Eve and thinking it's Christmas."
Changes in parking over the last year, such as the loss of Lot S behind the Campus Recreation Center for renovations, have decreased the number of spaces available to students. Not only are there fewer spots on campus, but NKU issues significantly more passes to students, faculty and staff than there are parking spaces.
For the 2014-15 school year, NKU issued nearly twice as many parking passes as there are spaces on campus (13,598 compared to 7,869), according to parking services records.
Further reducing the pass to parking space ratio, an estimated 1,085 spots will be lost beginning this summer due to the addition of the AA Connector Road project and the Health Innovations Center, which will be in the current location of Lot C.
NKU has a plan to eventually make up the lost spaces by either extending garages, activating unused lots or build new ones, but is also focused on maintaining current parking lots. Parking lots are monitored daily and close attention is paid to class schedules and departmental schedules when it comes to allocating passes, according to Curtis Keller, director of parking services.
This year, Tuesday and Thursday mornings are the busiest times to park, according to Campus Police Chief Jason Willis.
"Usually our most congested times are in the morning hours between 9-11 a.m.," Willis said. "Typically Tuesdays and Thursdays tend to be our most congested days and so we try to focus most of our traffic control in the mornings. There are some afternoons when we do have to do some traffic control as well."
Directing and maintaining traffic and parking lots is a daily assignment for Campus Police most mornings, according to Willis.
Simpson rarely finds a parking spot in his lot of choice across from the library, Lot I. He likes to park there due to its close proximity to the Fine Arts building, but often ends up driving to a garage to find a spot. He and his friends call the lot 'Duchess' because of the difficulty they have trying to park there.
"Probably 30, maybe 40 percent of the time I can find a parking spot," Simpson said. "That really tiny lot by the library, that's what we call princess parking. When you get a spot there, you truly feel like a princess."
There simply aren't enough parking spaces, according to Simpson.
Students may perceive a shortage of parking spaces, but that's only because they're unwilling to park in a lot further from their destination, according to Director of Business Operations and Auxiliary Services Andy Meeks.
"Probably the biggest struggle that we have is that people just generally aren't happy about parking," Meeks said. "You know, they don't get to park right up next to the building and you just kind of have to take it with a grain of salt... Is there really a problem here? Or are we just whining because, 'I had to park over in Lot I as opposed to Lot D.' We have plenty of capacity."
Parking Spaces by Status
Out of the
7869

availabile spots on campus, how many of them are designated for students only, faculty/staff only, and how many are open to both students & faculty/staff?
II. Cost
Self-sustaining Service Comes at a Price
Junior electronic media and broadcasting major Tommy Bailey said he's adjusted to having to park far away from buildings, although he wishes the high price he pays for a parking pass would give him a closer spot.
"Sometimes I have to park far away so I'm not always happy with that, considering I pay $220 a year for a parking pass," Bailey said. "But I can't really complain too much; it's not like walking across campus is too bad. I'm used to it by now."
The price of the pass, which will remain stable at $220 (full-time student pass) for the third year in a row, is set at a rate that will sustain parking services. The program is an auxiliary service, meaning that it does not receive any funding from the university, according to Meeks. Instead, all parking services revenue is generated from parking passes, tickets, visitor parking and special event parking.
Passes are the main source of revenue for parking services, generating around $2 million in revenue per year, according to Curtis Keller, director of parking services. Special event and visitor parking in comparison brings in only about $14,000 annually. This money supports all expenditures including the debt service, which includes the maintenance of lots and the construction of garages.
Through the years: The cost to park
Have you ever wondered what it cost for your professor to park?

View both the cost increase for parking passes and the cost difference between faculty/staff and students.
Although he said he doesn't mind the cost of a parking pass, a financial aid mix-up caused Simpson to incur parking tickets last year.
"I didn't have money to buy a parking pass and so I was parking in the garage and paying for it," Simpson said. "But I drove to all 3 garages on campus and they all said that they were full when they weren't. There wasn't anybody there, so I had to park in Lot I and I got a ticket for it."
Each parking ticket Simpson received carried a $37.50 fine. Though he never received more than fines, after four unpaid tickets, a student's car can have a boot placed on it. Over the last five years, NKU students have incurred 34,986 citations.
Unlike Simpson, senior business administration major Ethan Glass believes the cost of the parking pass is too high. Glass drives 35 to 40 minutes to campus from Grant County twice a week.
"Personally I think it's a little ridiculous," Glass said. "I know that they probably need money to pay for things, but I just don't know why it's got to be so much."
Not only do passes help pay for maintenance, they also contribute funds towards NKU's future parking lots and garages.
For one blacktop spot, the cost is between $2,200-$2,500, according to Blake. The price tag on a single garage parking spaces is ten times the amount of a normal spot, coming in between $22,000-$26,000. A gravel spot costs the university $1,700-$1,800.
How much does each spot cost?
How much does each spot cost? What is the cost difference between a single spot in the garage versus a single spot of gravel?
III. Maintenance
Maintaining the Lots
Facilities management crews are responsible for maintaining all aspects of parking lots. Parking lot and garage lighting, asphalt repair, paint striping, snow removal/salt application and garage elevator maintenance are among the most costly repairs, according to Vice President of Facilities Larry Blake. Additionally, parking garages are repaired, resealed and repainted every six to 10 years, costing about $750,000.
Potholes are constantly repaired during the winter months, according to Blake. Crews cover them with a temporary patch when the weather is cold.
"The problem is that this time of year, we're putting down what's called Cold Patch and it's going to stay there for a month and then as the cars run over it it tracks right back out," Blake said. "Then the pothole comes back."
Snowstorms in February brought more parking woes. Piles of snow in the parking lots caused freshman graphic design major Jacob Roaden to weave in and out of cars parked haphazardly in Lot K.
"Parking is really bad with snow, so there are times where I'll thread the needle behind cars in order not to hit theirs to find a parking spot because they're pretty much taking up two spaces and they don't even know it," Roaden said.
Each parking lot is monitored annually and rated on a scale from poor to good condition. Lots are rated based upon the cost of the work needed for each parking lot to reflect the priority of repairs, not the amount of physical issues. A lot rated 'poor' is still considered to be serviceable, according to Larry Blake, assistant vice president of facilities management.
"As they move towards poor, we try to get them overlayed," Blake said. "For good and fair we try to do regular maintenance like fixing potholes and paint striping annually."
Parking spots by material
Out of the 7869 parking spots, what percentage are gravel, garage, or paved?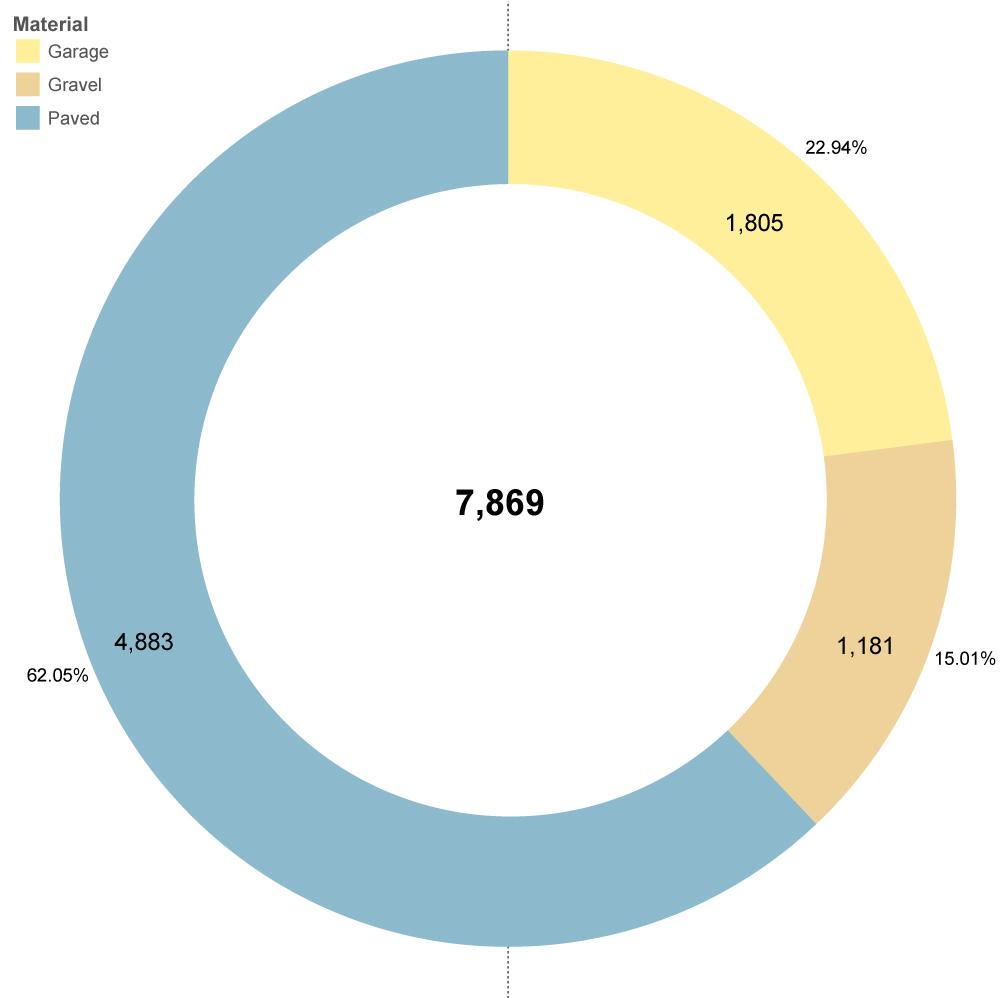 IV. Future
Parking Down the Road
The Kentucky Transportation Cabinet will begin work on a connector road linking Three Mile Road and Johns Hill Road this summer. The project will eliminate an estimated 937 parking spaces at the back of Lots K and L and potentially parking behind the residence halls and the Kenton Drive garage.
"[The lost spots] are essentially very close to the gravel-asphalt line," Blake said. "That's one of the reasons those lots were never paved. We knew this was coming someday and we didn't want to invest any more than we had to."
Construction on the Health Innovations Center will eliminate all 147 spots in Lot C, a faculty parking lot. Both projects will cause NKU to lose a total of 1,085 spaces of their existing 7,869 spots — more than 10 percent of NKU's parking spaces.
The administration is in talks to expand one or more parking garages to cope with the loss of so many parking spots.
"We are looking at Kenton [Drive garage] and the University Drive garage," Blake sad. "Both of those are very easily extended… we don't have a design. But for the most part, that would deal with the deficit that we believe we have."
Sophomore nursing major Jessica Mertens said the Kenton Drive garage fills up quickly and that the sign sometimes says it is full when it isn't. Getting caught at the entrance is a frustrating experience.
"It always says that the garage is full and it's never actually full," Mertens said. "It's really irritating because you have to back out."
If both the Kenton Drive garage and University garage were expanded, it would create 350-400 spaces, according to Blake. He said it would cost $12-15 million to expand one garage.
Another option to deal with the loss of parking is to encourage the use of Lot O, the lot behind the Bank of Kentucky Center, the parking lot behind Campbell Hall and the old civic center building beneath the soccer field. A parking lot with 80-90 spaces could potentially be built between the Civic Center Building and NKU's Soccer Stadium, according to Meeks. A second shuttle could help transport students from these exterior parking lots.
Regardless of what measures NKU may take to add more spaces, Simpson hopes the parking situation is quickly remedied when the construction projects begin.
"I think it's really frustrating that they're building up the campus before they build up parking," Simpson said. "I just kind of feel like we're getting the short end of the stick."
Blake said the extension of parking garages may be the most sensible option for the future of parking.
"We don't want to turn the green we have into black asphalt," Blake said. "Logically where you could put a surface lot is actually a long-term projection for a building, so do you want to continue to build a lot, come back, tear it out, build a building, build another lot — so play checkers? Garages at the end of the day make a lot of sense."